Aston Martin Jaguar of Tampa
Tampa, Florida
Applications:
Retail Displays & Signage
Media Walls & Backdrops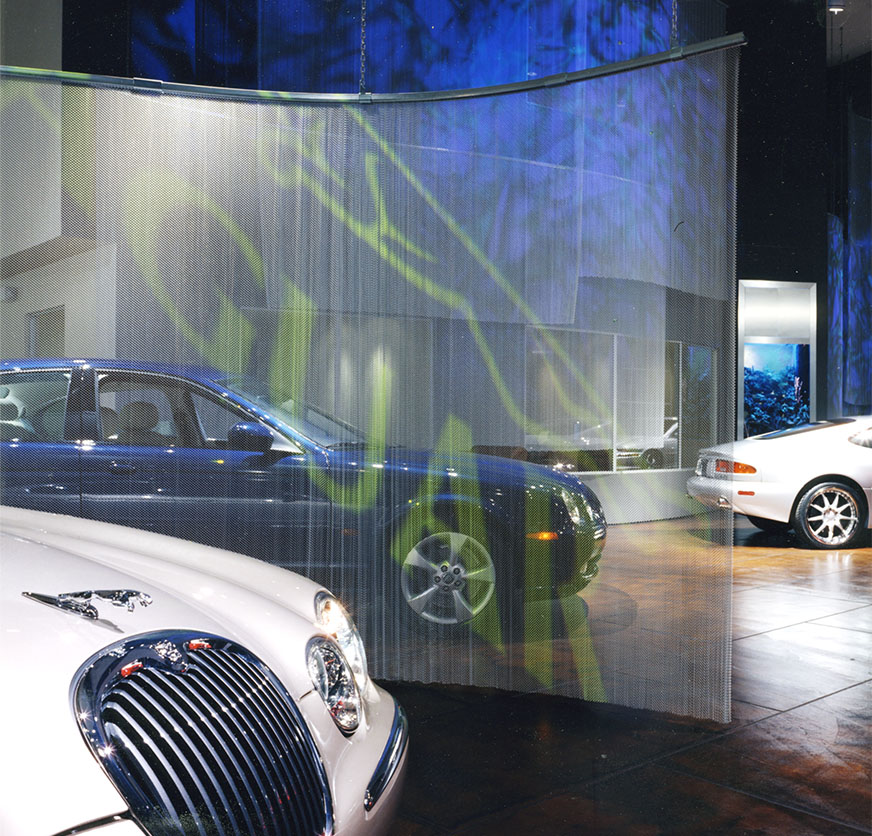 To match the location's range of iconic, luxury sedans, sports cars and SUVs, Aston Martin Jaguar of Tampa created a gorgeous showroom experience for car buyers in the Tampa Bay area.
The dealership leverages its striking open showroom to feature the latest from Aston Martin and Jaguar. To accentuate the vehicles and the overall space, owners selected Fabricoil® coiled wire fabric, utilizing the material for free-hanging wallcoverings and small-scale partitions. The material adds a hint of elegance to the space, serving as both a functional addition and aesthetic display.
Fabricoil sculpted the showroom's open space, serving as a semi-transparent divider, while Cascade's customizable attachment systems allowed for the partitions to be attached by wire to the showroom's ceiling. As a result, the material itself does not cover the entire open space (floor-to-ceiling) like it otherwise would if directly bolted to the ceiling.
From an artistic perspective, the dealership uses light projectors to cast logos, colors and other graphics onto the coiled wire – a perfect material for providing form, function and a method for art and company branding.
The dealership was one of 16 Jaguar locations in the U.S. to earn the 2019-20 Pride of Jaguar Retailer Excellence Award.