Elmira Corning Regional Airport
Horseheads, NY
Market:
Aviation + Transportation
Applications:
Curtains, Drapery, and Window Treatments
Security Gates & Screens
Partitions & Enclosures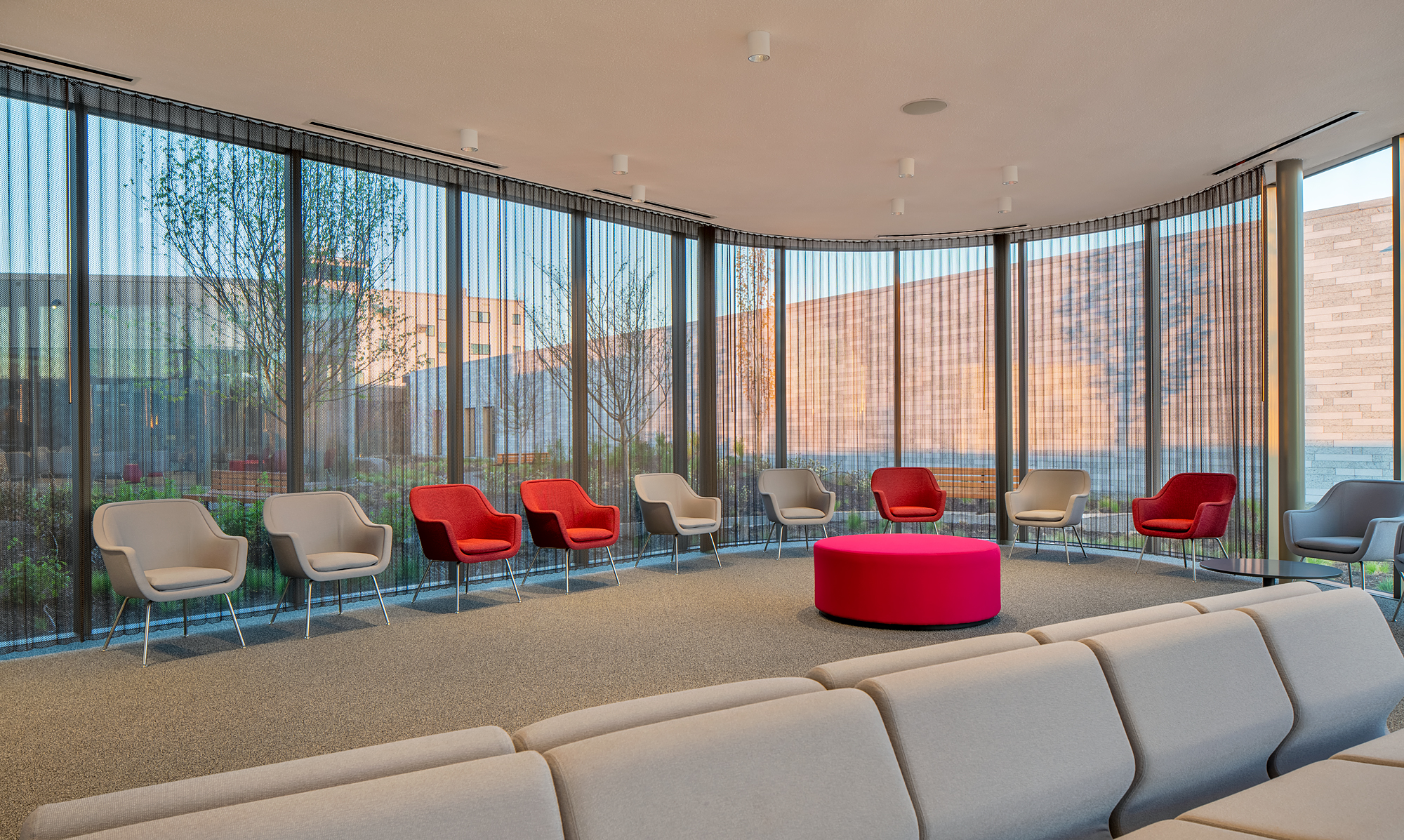 Cascade Architectural provided 3,055 sq. ft. of Fabricoil® in three unique applications for the $61.5 million expansion and revitalization project at the Elmira Corning Regional Airport in Horseheads, NY.
The 3,055 sq. ft. of 5/16" 15-gauge aluminum Fabricoil is used for three different purposes within the airport's interior, including window drapery, a privacy partition, and a security gate for Taste NY Bar. The coiled wire fabric is finished in Antique Bronze and secured using Cascade Architectural's operable Steel Secura Track attachments.
"Airport management was concerned about sun coming from the southwest," says Nancy Felts, Project Manager, AIA LEED AP at Fennick McCredie Architecture. "We specified Fabricoil to curve around the perimeter of the departing gate lounge, which provides solar shading to keep guests comfortable while still allowing visibility out to the courtyard."
The Fabricoil window treatment extends past the floor-to-ceiling glass windows of the lounge to double as a partition separating the open space and public charging stations. This coiled wire fabric divider gives users privacy while working on personal laptops or mobile devices.
Fabricoil is also used as a side-folding security gate for Taste NY Bar within the airport, utilizing the same Steel Secura Track with bottom footbolt attachments and side hook bolt locks to secure the area during closed hours. Fabricoil security gates come available in multiple locking configurations including both lock and key intermediate footbolt options, and can be equipped with a series of channels, handles, batons, and other reliable hardware components for customization.
Architect:
Fennick McCredie Architecture
Photography:
©William Horne